Australian Champion Iceana Antique Gold ET
Sire: Aust Ch Vidiem Enter For Gold
Dam: Aust Ch Hanafor Marna Murrell
Whelped: 25/11/2002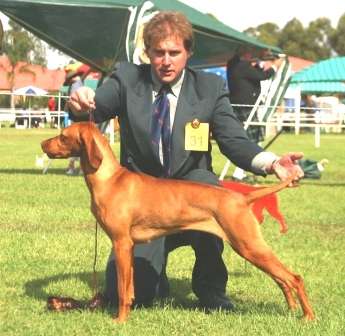 Tique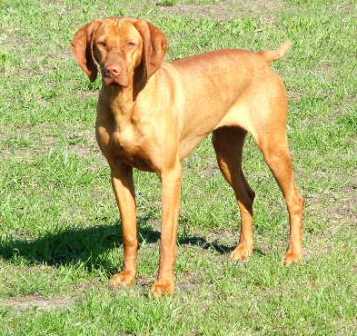 Achievements:


Australian Champion Iceana Antique Gold ET     "Tique"
AVA Hip Score 5:5
PennHIP Scored – 90th percentile.
Australian Championship  title – gained on 12th June 2004
Endurance Trial  title – gained on 10th July 2004
Tique is a pleasure to own as our family pet. She has a beautiful temperament and a graceful elegance about her. Her life revolves around chasing birds and lots of pats and cuddles. She is a wonderful gentle playmate for our children.  Tique is litter sister to our top winning BIS Aust Grand CH Iceana Gold Point ET JD. Tique with some good quality competition has become a multi best of breed, class in group and show winner. It has been hard for her to win over her top winning brother Alf but she has won many classes in group and show. Tique has the same classical appearance as her brother.
Achievements include
March 2003, Puppy in Show under American Breed specialist Dr R. Hilderman at the Gundog Club of Tasmania Championship show.
April 2004, NSW Hungarian Vizsla Club Speciality Championship Show , Tique at 16 months was second out of six dogs in the Australian bred class under Judge Mrs Paula Nykiel (USA).
March 2004, Gundog Club of Tasmania Championship Show, State Bred in Show under Hungarian Judge, Mr T Jakkel.
Tique was  #3 show bitch in Australia on the 2004/2005 Rozsda Catharina Memorial Trophy point score with very little showing.  Tique was not conformation shown for most of 2005 as she was having too much fun developing her agility skills in preparation for gaining another title.  She reentered the conformation ring in June 2006 winning a Class in Group at her first outing.  Tique whelped a litter in 2007 and her offspring have become class in group and show winners.
Tique  is dam of Aust Ch Iceana Orinoco Flow
Pedigree of "Australian Champion Iceana Antique Gold ET"

Parents
GrandParents
GreatGrandParents
SIRE

Aust Ch Vidiem Enter For Gold     

Aust Grand Ch Hubertus Cimeres Ceger

 Aust Ch. Hung Ch. Ch. Lrt. Matai Darazs (imp Hun)
Aust Ch Aranyoz Huncut Holgy
Aust Ch Vidiem Gold Beladonna
Aust Ch Pretorium Ea Everus
Aust Ch Caracalla Etelka

DAM

Aust Ch Hanafor Marna Murrell

Aust Ch Lutra Bronze Major (imp UK)
Eng Sh Ch Russetmantle Finch of Gunalt (UK)
Lutra May Fly (UK)
Aust Ch Hanafor Benbold Deana
Aust Ch Hanafor Master Bentley
Aust Ch Hanafor Lady Wychbold
Click back on your browser to see more of our Dogs.