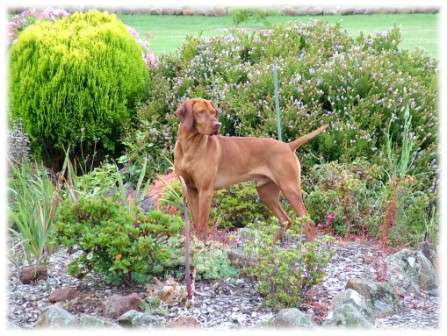 1. All puppy enquires are screened for suitable facilities and lifestyle to home an active dog.
2. We aim to keep communication lines open with our puppy owners and offer advice and training guidance throughout the life of the puppy. We welcome you making contact for advice and to update us on what's happening with your dog during its life.  We love to receive photos and to meet dogs we have bred again in the future.
3. We care for the life of the dogs we breed and offer to take back a puppy that is not working out in it's home and will either rehome it or keep it with us. We donot want to see a dog we have bred in a pound or on the street.  Please bring your dog back to us if it is not working out and we will find a new home for your dog.  This is a hobby for us and we are not a kennel that is out to make money from breeding dogs. Breeding quality lines and raising puppies correctly is an expensive hobby and we would be happy if we covered our costs.
4. With our breeding program, it is aimed that all puppies are free from hereditary health defects. However, if a vet discovers an Iceana dog has developed a hereditary defect we will refund your money and take back the puppy or take back the puppy and offer a replacement pup from our next litter.
5. All breeding stock have been health screened over several generations to prevent hereditary defects. We are using the pennHIP method for hip scoring in our own breeding program.  We believe this is a better system to detect hip dysplasia in dogs.
6. All puppies we breed are registered on the limited register with the Tasmanian Canine Association, microchipped, wormed, vaccinated and fully health checked by veterinarians – copies of these papers are provided with your puppy information.
7. All our pups are temperament tested using the hastings method prior to placing them in their new homes.
8. We will register all new puppy owners for 12 months with a vizsla club of your choice in Australia. We actively encourage you to join an obedience club for your puppies first 1 -2 years of training to assist with socialising your pup and any training problems you may have.
9. A comprehensive Iceana Kennels information book (covering preparing for your puppy, feeding, training and breed information) and an imported hard back Hungarian Vizsla Breed book is sent to you to read prior to receiving your puppy.
10.  We offer advice and guidance to those puppy owners who wish to purchase a second vizsla or wish to breed with our lines in the future.