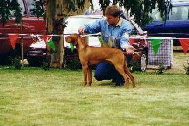 ICEANA kennels established in 2002, is named after Iceana Estate (said I seen a), a large farm in north eastern Tasmania.  This property was orignally owned by Sharon's paternal ancestors.
Iceana is small kennel, we keep no more than five dogs and live on a couple of acres.  We are close to some beautiful beaches in southern Tasmania, the island state of Australia. Our dogs live as family pets and love swimming and playing at the beach or just romping around the garden with our children.  They even go out fishing in the boat and thoroughly enjoy a boat or car ride.  Sharon works part time and trains our dogs and is also at home with them while gardening during the week.  Our garden is proof  you too can have a dog and a garden as we have 2 acres of fully landscaped garden that the dogs have full access to.
We aim to breed with only the best quality dogs and pedigrees for the future of the breed and our own breeding program.  We have a breeding program that is today interlinked with kennels in  Australia and overseas.  The gene pool is very close and as breeders we need to be careful with what we breed to ensure only the best lines are bred together to prevent health problems, poor body structure and temperaments creeping into the breed.  We aim to put our competitive streaks aside to work with other breeders to ensure this.  Sharon as a registered nurse has a strong interest in the health aspects of the breed. Matthew is currently training to become a conformation judge. Matthew hunts fur and feather will all of our dogs and Sharon trains and competes with the same dogs in agility.    We have travelled twice overseas to look at the breed in other countries and to network with breeders there and aim to continue to do this every couple of years.
We actively compete in Victoria, NSW and Tasmania in the areas of agility and conformation.   All of this is not easy with both of us working and two small children.  Somehow we juggle it and thanks must go out to all the Iceana puppy owners and vizsla people who have become very close friends and really are our support which enable us to juggle such a crazy load to enable us to travel with children and dogs and continue to turn up at competive events interstate.
Our interest in the breed began in 1995, with the purchase of Pluto (Aust Ch, Vidiem Enter for Gold) from VIDIEM Kennels (Diane Masland) in NSW.  Pluto was a wonderful companion, Matthew's hunting dog and best mate who he took to work.  At the age of 3 years, he was conformation shown for the first time and despite some good competition in the show ring, he rapidly gained his Australian Champion title within 6 months.  We started Iceana Kennels to get a pup from our wonderful Pluto.  Thankyou to Robyn and Phil Ellis of Tazlon Kennels who assisted to get us started by leasing their Marna, Aust Ch Hanafor Marna Murrell to enable us to have a foundation bitch.  From this mating came our multi best in show winner Alf, Aust Grand Ch Iceana Gold Point ET, JD.  There was a twin to Alf in the litter and at the time due to our low profile as breeders we were unable to find a show home for him.    This first litter was very successful with consistent size and conformation across the 7 puppies.  All 7 have grown into quality dogs of a very high standard and 3 have competed successfully in different disclipines. Iceana Vizslas have been successful in the field, agility, flyball, obedience, endurance trials and the conformation ring. Our dogs have been used as therapy dogs in hospitals in Hobart with Sharon and at pet expos to promote the breed and responsible pet ownership.
Thanks must also go to a special group of wonderful dedicated and truly professional breeders across five countries who took us on board in those early years.  Some have since passed from this world, but the knowledge gained through their support and mentorship continues to influence Iceana Kennels breeding program today.